Purchase Info:
Our custom mouth atomizer is now available. This atomizer is featured in my book and is constructed to be able to spray the heavier white high flow acrylic paint as well as diluted acrylic, ink, and watercolor. Jeff makes each one of these by hand, so at times the quantities may be limited. Click the link here, or on the image below to be taken to the Gallery page where it can be purchased. Free US shipping is included. Canadian customers, please contact us for purchase infromation.

A four page PDF from the book is available here
-Custom Mouth Atomizer
Custom Mouth Atomizer





Class and Workshop Supply Reference:



Click on image or Text below to see specific item:



I provide these links not to suggest that you purchase them on these sites, but to give you a specific picture and item description for reference of what you need.




For those of you that are local to the Phoenix area, Arizona Art Suppy carries both the applicator bottles and Masking Fluid Pen.
Fineline Applicators 2-Pack 18-Gauge (be sure the bottle is yellow not blue)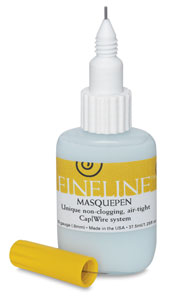 Fineline Masking Fluid (Resist) Pen 18-Gauge Standard Tip (be sure the cap is yellow not blue)
80# White Sulfite Paper - 500 sheets - Dick Blick. Used in my Abstract Design Class

Reference Material

Click on these links to be taken to a Pdf containing useful information about various tools and techniques that I explain in my book, "Abstract Explorations in Acrylic Painting". Below that info are links to where you can most affordably find them.



PDFs



-Custom Mouth Atomizer

-Applicator Bottles

-Resist Pen